AAPanel is an internationalized version of BAOTA Panel – One of China's most well-known and well-known free web hosting control panel. Although the current AAPanel has fewer features than the original BAOTA Panel, it will be constantly updated and soon integrate outstanding functions.
Features of AAPanel
Very lightweight, only requires 512MB Linux VPS to use.
Easy to use, install with a few mouse clicks.
Edit PHP, Webserver configuration directly on the interface.
App Store Library makes it easy to install Redis, Memcached, Google Drive, … with one click.
File management with beautiful interface File Manager, code editor support is very convenient.
Configure security VPS, Webserver with one click.
Website backup support to Google Drive, Amazon S3, FTP, …
The community is active.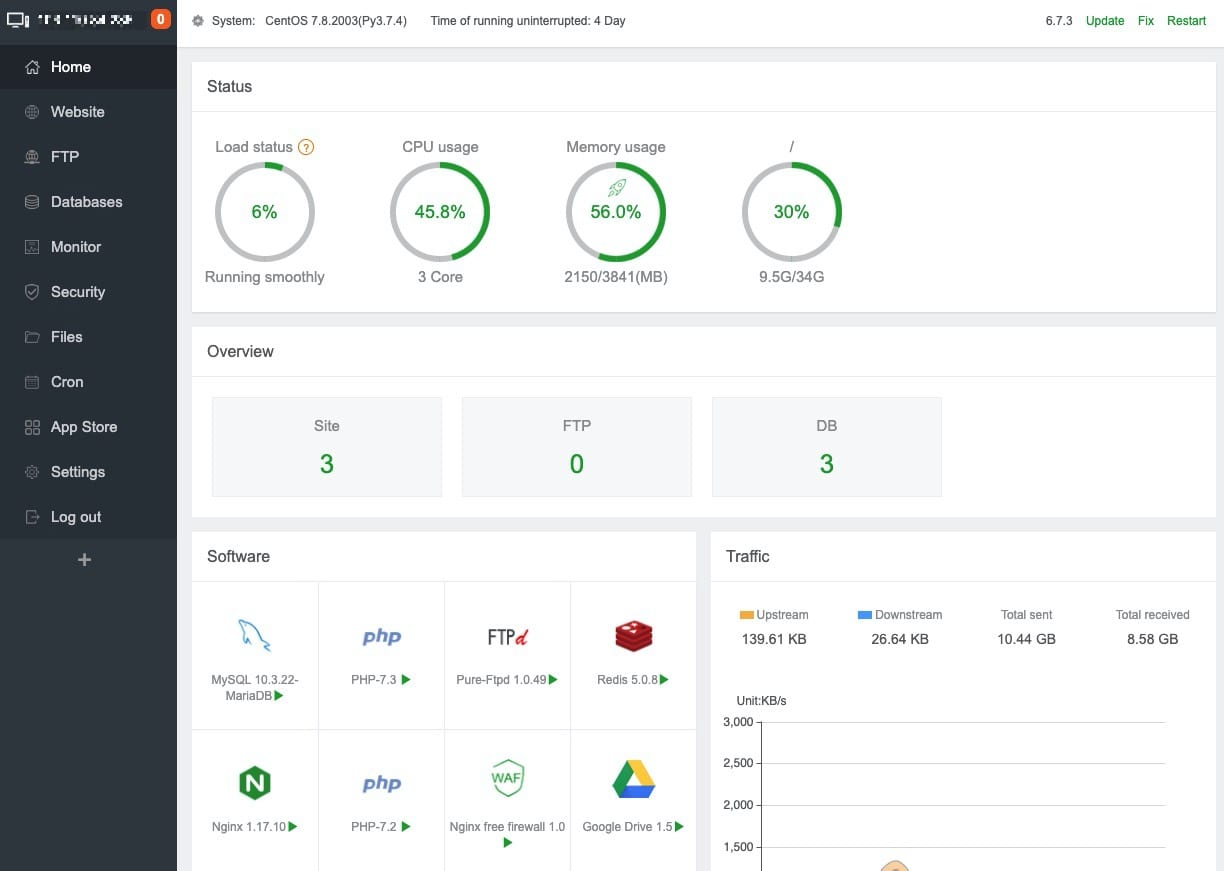 The interface of AAPanel
Instructions for installing AAPanel
To install AAPanel, your VPS / Server must meet the following conditions:
RAM 512MB or more, however the best is from 768MB for the most stable operation. Package Pro VPS 1 Best of StartWp absolutely can use AAPanel.
CentOS 7.1+, Ubuntu 16.04+, and Debian 9.0+ are not installed with any control panel software or webserver.
To proceed with the installation, run the corresponding installation command as follows:
CentOS
[wps_clipboard]yum install -y wget && wget -O install.sh http://www.aapanel.com/script/install_6.0_en.sh && bash install.sh[/wps_clipboard]
Ubuntu
[wps_clipboard]wget -O install.sh http://www.aapanel.com/script/install-ubuntu_6.0_en.sh && sudo bash install.sh[/wps_clipboard]
Debian
[wps_clipboard]wget -O install.sh http://www.aapanel.com/script/install-ubuntu_6.0_en.sh && bash install.sh[/wps_clipboard]
You can access here to get the latest installation commands if needed.
When installing it will ask for information, type yand yeslet the installation continue.
[wps_clipboard]Do you want to install aaPanel to the /www directory now?(y/n): y Do you need to enable the panel SSl ? (yes/n): yes[/wps_clipboard]

Continue the installation process will take place, you wait until the installation is finished and it will provide login information to AAPanel just installed.

AAPanel installation is complete with login information
Please save the above login information, then access the browser with the above information to start installing the webserver.
After logging into AAPanel for the first time, it will ask you to set the type of webserver, where you can choose which webserver to use. StartWp recommends that you use the LNMP ( Linux + NGINX + MySQL + PHP-FPM ) for the most stable and optimal performance.
You should choose LNMP with the following versions:
NGINX – TEngine 2.2
MySQL MariaDB 10.2
PHP 7.2 (can be installed later)
Method: Fast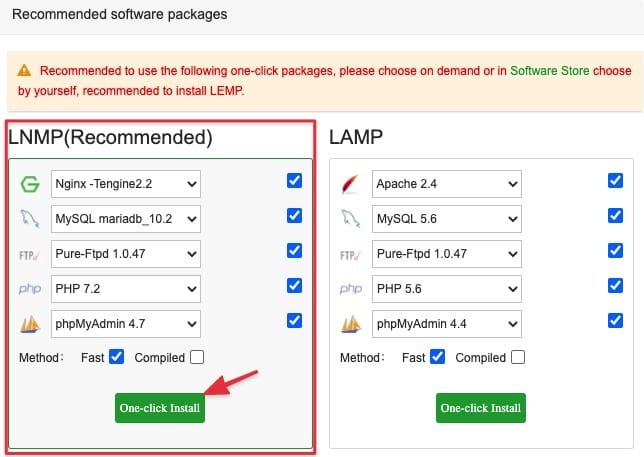 Select the type of webserver to install and use on AAPanel
After you press the One-click Install button, the installation interface will appear. You can keep the same window to see the installation progress. Installation time may take 20-40 minutes depending on network status.
As soon as the installation is complete, you can start using AAPanel right away. In other articles in the AAPanel column, StartWp will guide in detail how to use some of AAPanel's features.