Do you want to create quality reviews, get lots of traffic, and get high conversion rates on your WordPress?
Of course, it means that you will make more money from the article.
Usually when talking about a review content, you only focus on introducing products that describe benefits, features and attach affiliate links to it.
It sounds good, but it's pretty dry.
That is why you should have a dedicated Content Review feature to increase user experience and conversion rates.
WP Review Pro is the best plugin I know to cater to your requirements.
So if you are looking for a way to write a better product review, a higher affiliate link click-through rate and make more money, in this article I will give you a detailed review of WP Review Pro as well as how. used for novices.
What is WP Review Pro?
WP Review Pro is a WordPress plugin developed with the aim of creating professional review content on articles. Behind it is Mythemeshop – a famous WordPress brand with more than 676,503 users.
Because it is developed by Mythemeshop experts, this plugin always ensures the top factors such as:
Dedicated feature for content Review
Easy to use for all subjects
Compatible on all devices
Optimized for SEO
Clean and lightweight code
Fast page loading speed
Compatible with most WordPress themes
There are a number of in-depth features I will mention in more detail in the section below.
Although WP Review has a free version for basic needs, it is quite limited in terms of features so it is difficult for you to build a quality review.
Especially in the current competitive context, the content is extremely important. So you can consider using WP Review Pro to get all the best features.
What features does WP Review Pro have that impressed me?
Now, let's talk more about the features equipped by WP Review Pro and its benefits for WordPress posts.
I believe not only myself but also you will be impressed with the 1-0-2 advantages that no product Review plugin can compare.
Multiple rating system
Unlike you might think, there are quite a few types of reviews on the online platform.
WP Review Pro comes with most categories like:
Star: Star (maximum 5 stars)
Point: Score (from 1-10)
Percentage: Percentage as progress (parameters 1-100)
Thumbs Up: Like or dislike
Circle: A circle that represents the overall rating.
With these types of reviews you will be able to easily promote the idea of Review and use it appropriately for your product.
For example: When you review a book, you can use the Point type to score each factor such as content (7 points), price (9 points), design (10 points), …
Or you can use Thumbs Up to bring out the likes and dislikes in a review of the newly released Iphone such as design, performance, camera, price, …
Rich Snippets integration
Rich Snippets are featured snippets that appear on search results. It will help you rank higher, grab more user's attention and get them to click.
WP Review Pro supports up to 19 rich display types including: custom product reviews, books, courses, software, events, games, hotels, restaurants, movies, music, broadcasts Figure,…
Allows users to leave reviews on products
User trust is very important in making their purchase decision.
When writing a review from a personal perspective, it is difficult to avoid a bit of omission and sometimes it mistakes the user to feel you are not really reliable.
That's why WP Review Pro allows your users to give their opinion and reviews in the comments section of Review content.
I highly appreciate this feature, which not only increases trust, but is also very useful for enriching your content while also great for SEO.
Feature to create comparison tables
Besides the content Review, creating a product comparison table is also a way for customers to easily make buying decisions.
Normally on WordPress you can do this using the table creation feature.
However, WP Review Pro has a lot of options to create professional boards with rating type, overall rating, product price, call-to-action button.
With the above criteria, I believe your users will decide faster and the clickthrough rate is also significantly optimized.
Notification bar and pop-up
The developers of WP Review really know how to get visitors to turn to user Reviews content.
Specifically, they have integrated pop-up notification bar and popup feature to attract users' attention and stimulate them to click with custom call to action.
So there will be more people interested in the product you introduce and improving the revenue for the Website.
Professional Review sample library
Not only at the review display types, WP Review Pro also has a number of Review content templates for you to fully summarize information about the product for users to quickly scan. This form includes important information:
Summary table title
Product price
Product photos
Content summary and overall rating by author (or including users)
Product advantages and disadvantages
The button to the purchase page
Generally with this summary your customers will understand the product faster and it will also influence their decisions quite a lot.
Import reviews from trusted platforms
WP Review allows you to import Review content from major platforms like Google, Facebook, and yelp, making it more reliable than ever.
What you need to do is simply connect via the API in the custom interface.
Integration with Woocommerce
If you have an electronics store, then it is essential that you have features for users to review products.
Why?
Simply put, when reviews are displayed, the following buyers can refer to and make more accurate decisions.
WP Review Pro integrates many types of reviews in the form of a user with criteria.
It is completely different from the overall value on most other selling websites. Besides, reviewers can also submit product photos via file upload or image url.
Converting data from other platforms
If you are a marketer like me, you will surely find Mythemeshop has a pretty smart customer acquisition strategy. As a user, you will avoid technical manipulation.
Specifically, WP Review Pro allows you to import competitor plugin data such as Yars, Author hReview, WP Rich Snippets, Reviews, WP Product Review, GD Rating System.
In addition, you can also import and export the plugin's settings for backup or quickly switch to another Website.
Varied display
Not only appear on articles, the WP Review reviews are also displayed in many other formats on your Website.
It supports up to 10 widgets displaying rating types.
Even better if you use a theme developed from Mythemeshop such as Schema, Steady Income, Ad-sense, MyBlog, Newspaper … because types of reviews will appear on the image of the archived article.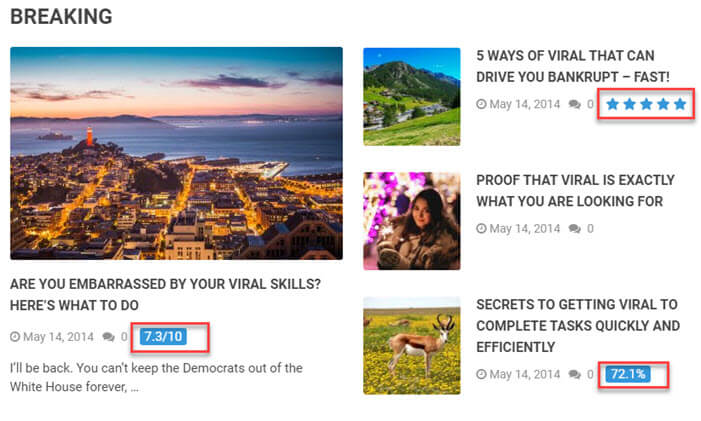 How to create a review using WP Review Pro
Okay, if you are wondering how to use WP Review Pro after I have it, then below I will guide you on how to create a review in detail.
Step 1: Make sure you have a post
Surely this requirement is not too high for you, creating Review content is essential for customers to understand all the features the product offers and the benefits they will receive.
Step 2: Create a rating board
Coming to the most important part, now is the time to encapsulate the best of the product through the content rating panel.
On the article interface you just scroll down to the bottom to see a Review – and you will work on the Review Box tab .
By default you do not have any reviews created, so in the Review Type section click the box next to open the rating categories and choose the appropriate one.
Personally, I often use Star because it is easy to use and a bit more trusting of users. Of course you can use it flexibly.
Next notice these items:
Review Heading: The title of the summary Example: Hawkhost overall assessment.
Reviewed Item Schema: Select the Schema type you want to display rich snippets for.
After choosing the schema type, depending on the type, there will be a number of different sections for you to add information.
For example, if I choose Product, there will be items as shown in the picture: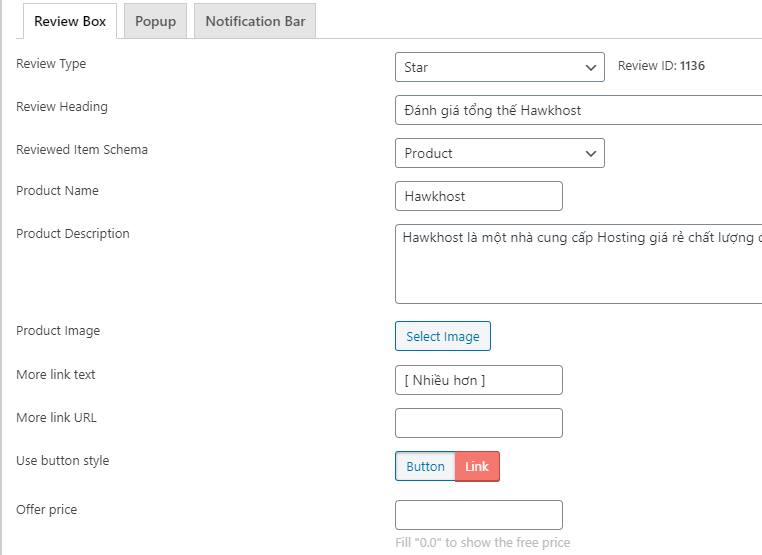 You will continue to the Review Item section, which allows you to control the appearance of the summary as well as the evaluation criteria.
First, click on the add item to add criteria to rate the product.
For example, with Hosting, we will have: allowed parameters, speed, integrated technology, price, support.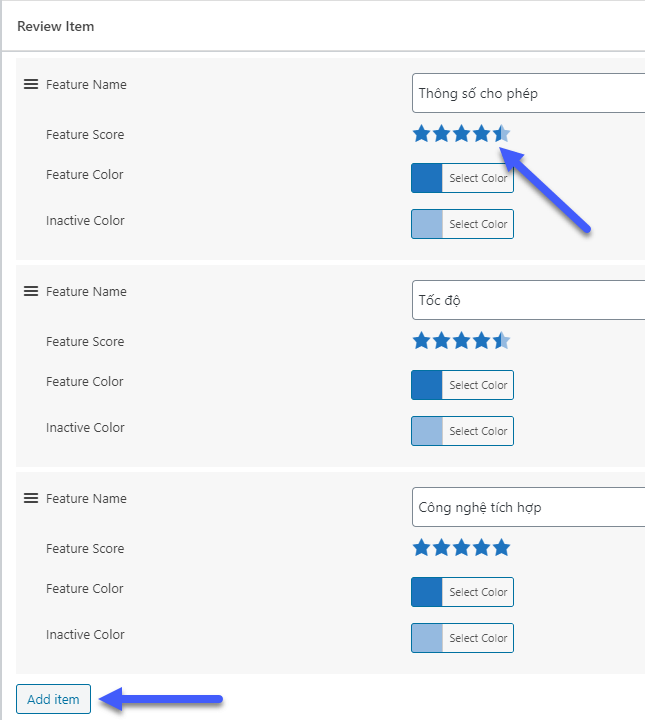 Do not forget next to the criterion name you add points to it by clicking on the 5 star icon or filling in the box. You can also customize the review score colors.
If you want to add criteria, click add item.
Once done, you will have a few options below:
Hide Features: Hide rating criteria (not recommended)
Custom Location: default will display at the end of the post, but you can click Yes to turn on options at the beginning, at the wedding or both, otherwise you can use the shortcode to show it at any position .
Custom Layout: I recommend that you enable "yes" to allow optional summary templates to be supported. Then you can also change the colors to suit your liking.
Custom Width: Leave it to default so it adjusts to fit article content.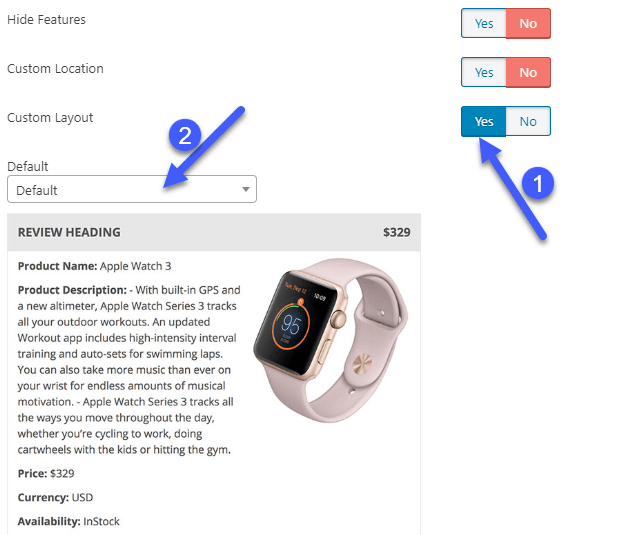 Review Link

This item allows you to add buttons to your summary sheet, which will normally lead to the purchase page.
Please enter the button text in the text box and the destination page address by URL, add a new button press add another.
We recommend that you only add up to 2 buttons for the highest conversion rate.
Review Description
This section allows you to manage a brief description of the product Review.
Description title: The description title. Hawkhost quick summary example.
Description content: Write a quick summary of the product.
Pros: Write the advantages of the product.
Cons: Write the downside of the product.
Pros and Cons, you should write each one on each line, then highlight everything and click the bullet icon in the toolbar. This will help each sub-item stand out with the icon defined by WP Review Pro.

User Review
This place will help you control the reviews for your visitors.
Disable: Does not allow people to rate
Visitor Rating Only: Only visitors are allowed to rate
Comment Rating Only: Only people who left comments can be rated
Both: applies to both
Product Price: The price of the product Review
You can see the results you get like this on the review of Hawkhost Hosting Provider.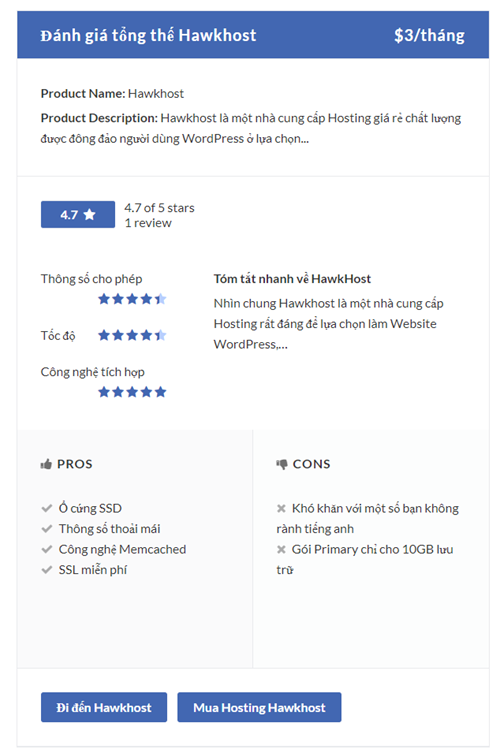 Very quickly you have a look at the product Review, right?
That is one of the powers that WP Review Pro gives you.
Create Poup
Popup works to create pop-up windows and direct users to relevant reviews on your Website.
In fact you can feature in any article content, not necessarily review content.
So when you want to turn on pop-ups, scroll down to the bottom of the post and click the pop-up tab.
In the enable section you can select use global options to use the general options set in Settings-> Review Pro -> Tab Pop-up (conditions must be enabled Yes).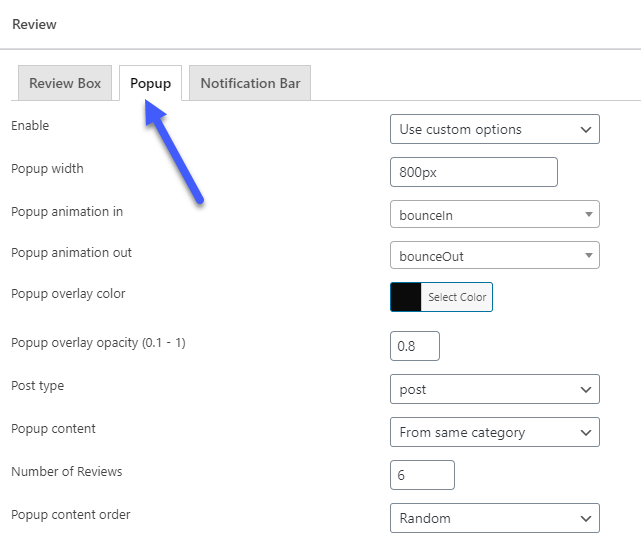 If you do not like it, you can choose to use custom options to open the customizations right on the post interface, and change colors, effects, display control, …
Personally, I recommend leaving the default.
Notification bar
Like the pop-ups above, the Notification bar can work on any post. It has the effect of increasing the clickthrough rate to the sales page or you can also use it to direct visitors to your product review content.
For example if you have an article on how to lose weight fast, you can set a notification bar to lead to the article "Weight loss drug review + product name" .
It makes sense, isn't it?
Because people reading the weight loss content will probably also be interested in products that help them solve the problem.
To do this please scroll down to the bottom of the article and click on the Tab Notification bar .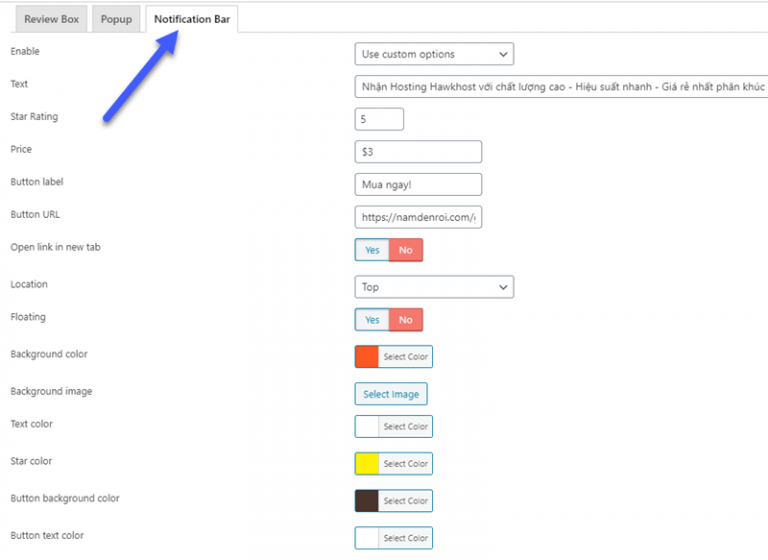 Similar to the Pop-up section, the enable – use global options section will take the default settings on Settings-> Review Pro -> Tab Notification bar (conditions you must enable Yes and customize the content).
But with me, manually using custom options will be much more optimal, you can customize the text, number of stars, button text, color position, …
Ultimate WP Review Pro review
It can be said that WP Review equips a lot of advanced features for product review purposes, or in other words, they are at the forefront of this segment. So it's not easy to find a real weakness.
You can see a summary of the pros and cons of WP Review Pro below:
[wps_table style="default"]
| Advantages: | Defect: |
| --- | --- |
| Create Review at the most professional level | The free version does not have many in-depth features and requires a premium fee. |
| Page loading speed quickly | |
| Easy to use | |
| Beautiful templates | |
| Variety of reviews | |
| Improve SEO with Rich Snippets | |
| Comparison table | |
| Allows users to leave reviews | |
| Woocommerce integration | |
[/wps_table]
Epilogue:
I believe that creating quality review content is essential for you to increase your Google rankings and high conversion rates on WordPress.
Just have a little experience writing SEO standard articles and combined with WP Review Pro will help your article content to a new level.
Product summaries with a stunning and professional display, rich snippets, comparison tables, and pop-ups are hard to find in other plugins.
So I highly appreciate WP Review Pro and it is one of the plugins worthy for you to invest in your business. You will inevitably see a significant increase in click-through rates and conversions, and that will drive your revenue as well.
Great is not it?
And now quickly own WP Review Pro right now!